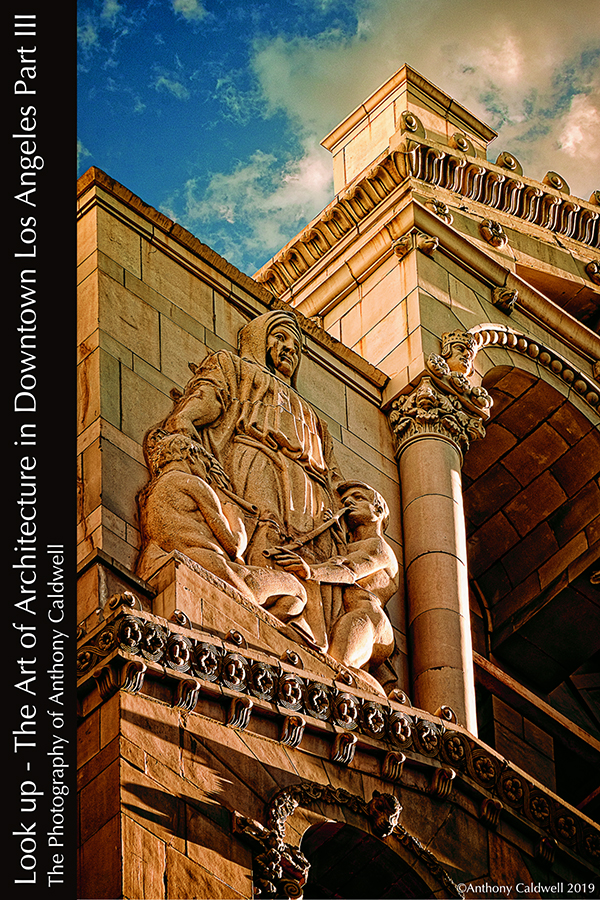 Look up - The Art of Architecture in Downtown Los Angeles Part III The Photography of Anthony Caldwell  
The population of Los Angeles exploded in the early 20th century from just over 11,000 in 1890 to 1.2 million in 1930. Many of Los Angeles's most iconic buildings were built between 1900-1930, transforming the city from a small, dusty town to a major metropolitan area rivaling other major world cities. Los Angeles became a city of innovation and imagination. Among the buildings in this exhibition are LA's first "real" skyscraper, the first escalator on the west coast, revolutionary construction techniques, and some of the nation's best examples of color terra cotta cladding.
The downtown area suffered a decline from the mid-to latter part of the 20th century. Residents, businesses, and entertainment moved out of the city core. Buildings were abandoned and mainly left vacant. In recent years, downtown Los Angeles and the Historic Core have seen a great reawakening.
Using newspaper articles of the time, Images From the Present and Voices From the Past relate the stories these once-forgotten architectural masterpieces tell us about the people, ideas, and passions that built Los Angeles. Through the lens of Anthony Caldwell, you can explore these alluring images and stories.
Presented by Art Meets Architecture at the Historic Fine Arts Building Gallery.
Opening Reception: Thursday, August 8, 6-8 pm, As part of the monthly Downtown Art Walk Event.
Artist Gallery Talk: Saturday, August 17, 6-8 pm, Fine Arts Building Gallery.
Gallery Hours: 8 am-8 pm daily
The Gallery of The Fine Arts Building Historic-Cultural Monument 811 W. 7th Street, Los Angeles, CA, 90017